McGill's Music's New Dean: "What We Do Best"

by Crystal Chan / October 1, 2011

---
Flash version here.
McGill, according to Sean Ferguson, "is in his blood." Ferguson has been at the school since 1990: first as a student, then a teacher. He was the director of the Digital Composition Studios, formerly director of the Centre for Interdisciplinary Research in Music Media and Technology (CIRMMT), and started as the Dean of McGill's Schulich School of Music—the biggest music school in Canada—on May 1, 2011.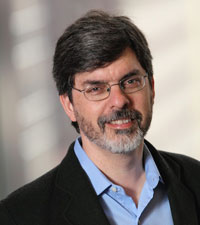 Sean Ferguson:
As a student [at McGill University], I had an incredible education. It was such an amazing experience for me. No matter what our challenges are, no matter what our budgetary situation is, our first priority is to do that for our students: to allow them to have amazing, life-altering experiences.
I'm really interested in the idea of collaboration. I really think that not all questions can be best solved through interdisciplinary collaboration, but a lot of them can be. And a lot of things that you would never be able to do any other way you can do if you just bring people together with different backgrounds and get them to work on the same project. That's something that I think we're very strong at here and that I want to continue to develop.
[As director of McGill's Centre for Interdisciplinary Research in Music Media and Technology and Digital Composition Studio] one of my main roles was to be the Teflon so that artists and researchers in science technology could interact with as little friction as possible. The thing that I'm proudest of was that, with the support of Stephen McAdams, I was able to make it so that the researchers in science and technology understood and came to value the contributions of artists, and that the artists grew to appreciate and understand the contributions of the scientists and technologists.
The university is looking at around a $106-million debt. This year there was 2.5% [budget cut to McGill music]. Universities all across North America are having these kinds of challenges; I think we have it better than a lot of places. The next two or three years I anticipate will be a very exciting time in terms of hiring new people at the school of music. A university is about the people that are there: it's about the professors, it's about the support staff, it's about the students.
One area that I think that I would like to focus on for the next couple of years is hiring in our performance department. In the last decade there's been a lot of diversity and growth in music research. There's been a huge increase in the music technology area, in the sound recording area. So I would really love to put some effort into focusing on how we can have the same type of growth and same type of energy [in the performance department]. We have some of the top musicians in Montreal as teachers. What we don't have are full-time tenure track staff in a lot of key positions. This creates challenges because those people have the kind of commitment to the university that part-time people cannot have. I predict that in three years the performance department will be almost unrecognizable since there will be so much new blood coming in who will have their own ideas, passions, and visions.
The other area that we have traditionally been very strong in that I would like to continue building up is contemporary music. At universities we have an obligation to go beyond established knowledge. Contemporary music is a place where we can really push into new directions and try new things and experiment in a way that's very exciting. One of the things that I would love to do is provide a clearer structure within which that can take place, because right now there is no contemporary music area, for example.
One of my favourite quotes is by Steve Jobs. I remember reading an interview with him where they asked him where his innovation with Apple came from and he said: 'Innovation with Apple comes from not just doing every single thing that comes along; innovation comes from saying no to a thousand things so that you can concentrate on the core things that are the most important for you.' This can do a lot of good because it forces you to really make choices. I think it can be a kind of a head clearing experience for me because fortunately we can say: 'we can't do everything so what do we do best? Where are we excellent and where do we see ourselves becoming excellent?'


---
Version française...