First Bach Festival in Montreal

by Isabelle Picard / December 12, 2005

---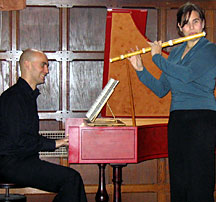 Could Montreal host a Bach festival on a par with those of Leipzig and London?
This is the aim of the founders of the new Montreal Bach Academy, whose premiere season of the Montreal Bach Festival will run from November 24 - 30, 2005.
When musicologist Alexandra Schleiber emigrated from Germany, she noted the absence of any organization in Canada committed to the study and performance of Bach's works. She determined to change all that, finding in Montreal fertile ground for an academy. She discovered the city's richness in both the number and calibre of musicians specializing in the baroque period.
The festival's first season will truly be international. Among the renowned participants are conductor Frieder Bernius, barytone Klaus Mertens, and Musica Antiqua Köln with director Reinhard Goebel.
Equally significant is the collaboration of several local ensembles that have focused their season on Bach's music for this festival: Arion, Autour de la flûte, Daniel Taylor's Theatre of Early Music, Les Boréades, les Idées heureuses, le Studio de musique ancienne de Montréal, and McGill University. This kind of collaboration is rare. The Academy has also formed the Bach Academy Orchestra for this festival event, made up of both local and out-of-town musicians.
Christopher Jackson, together with co-artistic director Julian Wachner, explains that a pivotal goal for the festival is sound and musicological research. Period instruments, or true copies, will be used during the festival. "We decided to invite only ensembles using period instuments or true reproductions. That is not to say that beautiful interpretation of Bach's music is impossible on contemporary instruments. This is what we decided for this year. The festival should foster growth not only musically, but also musicologically, to benefit from all the fascinating research carried out in the past ten or fifteen years. The aim is then to marry the results of this research with interpretation." To this end, the public is invited to attend a symposium entitled The Musical-theoretical planning, structure, and composition of JS Bach's Christmas Oratorio. This symposium brings together some pre-eminent Bach musicologists on Saturday, November 26, from 9 am – 4 pm) The following day at 4 pm, the Oratorio will be presented by the choir of St Andrew and St Paul, the Bach Academy Orchestra, soloists Dominique Labelle, Jennifer Dudley, Benjamin Butterfield, and Klaus Mertens, with Julian Wachner directing. The educational aspect of the festival further presents conferences, open rehearsals, and master classes by Reinhard Goebel (November 24) and Klaus Mertens (November 28). Students of the McGill choral and baroque orchestra programs will be able to take part in these events leading to their performance of four Bach motets conducted by Frieder Bernius (November 25).

The music program this year includes three of Bach's later works, considered masterpieces: the Musical Offereing BWV 1079 (November 29, Les Boréades); the Art of the Fugue BWV 1080 (November 24, Musica Antiqua Köln); the Mass in B Minor BWV 232 (November 30, le Studio de musique ancienne de Montreal, Bach Festival Orchestra, soloists Shannon Mercer, Ingrid Schmithüsen, Daniel Taylor, Frédéric Antoun, Marc Belleau, with Christopher Jackson conducting).
"We decided to accentuate the grand works," Jackson explains,"to present interesting and fresh approaches. The music of Bach is not new to Musica Antiqua Köln; les Boréades is a very interesting group. I believe that the variety will come from the works themselves – the body of Bach's work is so enormous – but also from the interpretations and different approaches of the performers."
Among the festival's 16 slated concerts will be the premiere presentation in Montreal of the recently discovered aria Alles mit Gott und nichts ohn' ihn BWV 1127. This work, written in 1713, was found by musicologist Michael Maul.
The opening season of the Montreal Bach Festival offers something for everyone. As Jackson explains, "In the future we would like to develop themes more specific to certain works, both on a theoretical and musical level. And we want to develop strong international ties. A festival such as this is an occasion for important exchanges, an occasion to look beyond, create crossroads. I believe we urgently need this kind of exchange." And we need them to be ongoing. *
[Translation: Margaret Rumscheidt]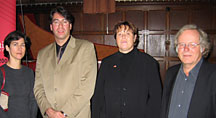 The festival activities take place at various centres around Montreal: Redpath Hall, the Church of St Andrew and St Paul, St Joseph's Oratory, and la Chapelle Notre-Dame-de Bon-Secours, among others.
Complete program information is available via the internet at
http://www.bach-academy-montreal.com.
Tickets are available at the McGill Box Office, or at 514 398 4547.
Alexandre Scheibler, Julian Wachner, Sabine Pletat et Christopher Jackson
---
Version française...