Funding a Music Education

by Christopher Bourne / December 12, 2005

---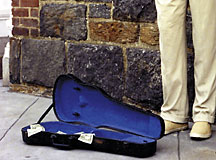 Juggling work, school and practising is always a challenge, but for many music students making ends meet means taking on a part- time job. Musical talent and knowledge can come in handy. La Scena Musicale looks at various ways students can fund their musical training during the school year.
Paid gigs
Being paid to perform. This kind of work doubles as practice time, and students learn valuable lessons about a performer's life. Whether playing in community ensembles, for weddings or funerals, singing in local churches, joining groups, or busking in the metro, students earn their keep while keeping their chops in musical form. Plunging into this world will help establish a network of contacts for later careers. Rates: varies
Teaching
Giving private lessons to beginners, junior musicians and adults is another answer. Although voice and piano are more in demand, there are students for most instruments. One can advertise with posters and classified ads in local papers and LSM, or join a music school. Talented pianists can find work as accompanists for aspiring singers. Rates: $15 to $30/hr.
Music support
Music performance and promotion require a virtual army of support staffing, from ushers to front-of-house staff, and library assistants. Start with the school's concert hall then check local venues. Rates: $8 to $10/hr.
Scholarships and Bursaries
Many schools have entrance scholarship programs and some in-course awards for the top students. In addition, many community groups and organisations offer various assistance programs to encourage talented young musicians.
Tuition Rates Shopping
Tuition rates for music programs can vary greatly across Canada. Tuition rates do not necessarily reflect the quality of education. Research what each school has to offer, and how a higher tuition rate benefits you. Quebec schools in particular are renowned for their relatively low tuition rates for residents. Canadian students born outside Quebec should investigate ways of becoming a resident, which can be as simple as living in the province twelve months without going to school full time.
Teaching and Research Assistantships
Graduate students and undergraduate seniors often have the option of working for a professor as either a teaching or a research assistant. Teaching assistants help out with larger undergraduate classes, often grading assignments. Research assistants in music will rarely be involved in performance-related tasks, but rather ones involving music history, theory, or electronic music. *
---
Version française...