L'Étoile or the Demands of Comic Music

by Pierre Marc Bellemare / December 12, 2005

---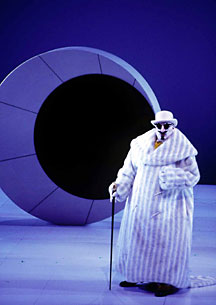 Although recognized at once as a masterpiece by aficionados, L'Étoile, the three-act comic opera by Emmanuel Chabrier (1841-1894), is largely unknown by the general public. Only since 1984, with the appearance of the Gardiner complete version, has it begun to find a marginal place in opera repertoires almost everywhere.
L'Étoile is deservedly recognized as one of the great comic operas, but one wonders why it took so long to gain a certain renown among music-lovers, given that opera fans enjoy being entertained. Perhaps as a genre, truly comical music isn't an easy thing . . .
When an opera amuses the audience, it's usually because of something other than the music itself--the drama, perhaps, or the acting, scenery, costumes, direction or, of course, the libretto. But music by itself is generally not enough to get people laughing. And the talent for writing comic music isn't given to everyone, not even geniuses.
Rossini was one of the rare composers to make a mark in this field. Offenbach was another. Chabrier followed in the latter's tradition, but the "Mozart of the Champs Élysées" (unlike Mozart himself) had a real knack for writing funny music, whereas Chabrier's comic arias were usually less robust and their charm not so immediately felt.
On the other hand, where Chabrier beats Offenbach and almost everyone else is in his gift for enticing droll effects from various elements of the musical language, making the score of L'Étoile an uninterrupted succession of musical jokes. He has a range of tricks to tickle the listener's funny-bone: the unexpected turn of a musical phrase, laughable contrasts between the libretto and the music, a childlike joy in transforming sounds and even words into something ridiculous, and so on. But where Chabrier reveals his mastery (and where he would be a mentor to Strauss, among others) is in his playful and inspired use of countless resources within the orchestration, particularly for woodwinds.
It's difficult to imagine the dismay of the audience at the operetta's première in 1877, given at the Bouffes (Offenbach's theatre!). The public was used to carefully orchestrated but simple musical accompaniments. The work had about forty performances then was taken off the program. It languished in the purgatory of little-known compositions until our own day, when efforts were made to revive it.
Will Montreal audiences be more indulgent? We hope so! After all, in order to appreciate this music all you have to do is open your ears . . . *
[Translated by Jane Brierley]
photos: L'Étoile, stage direction by Mark Lamos, Glimmerglass Opera 2001, credit: George Mott
Opéra de Montréal
les 5, 9, 12, 14 et 17 novembre 2005 à 20 h
L'Étoile d'Emmanuel Chabrier
Michèle Losier (Lazuli), Frédéric Antoun (Le roi Ouf 1er), Marie-Josée Lord (Laoula), Monique Pagé (Aloès), Phillip Addis (Tapioca), Orchestre Métropolitain du Grand Montréal et Chœur de l'Opéra de Montréal direction de Jean-Marie Zeitouni.
Mise en scène de Mark Lamos. Décors et costumes du Glimmerglass Opera et du New York City Opera.
Salle Wilfrid-Pelletier de la Place des Arts
http://www.operademontreal.com - (514) 985-2258
---
Version française...