Lyne Fortin Takes on Butterfly

by Isabelle Picard / October 18, 2005

---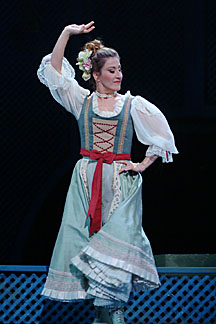 This fall, Canadian soprano Lyne Fortin takes on the role of Cio-Cio-San in Puccini's Madama Butterfly for the first time.
LSM: How will you approach the role of Cio-Cio-San?
Lyne Fortin: Like all roles I take on, I begin with the score, read the text and translate all the dialogues . . . From there, I listen to my instincts, and let rise what will come to the surface. I try to see in what situations I would say those words. I look at the context. For instance, Butterfly is a Japanese woman from a time in history . . . with a specific political, military and economic context. I search for external facts, but I always rely on the score because it is a great resource. I get the most pleasure out of developing my inspiration from those pages.
LSM: Does the role present particular challenges?
LF: They are not really challenges. I liken it to cross-country running. Unlike training indoorsl, when running outside in a field, one encounters obstacles like streams and rocks. It's the challenge of practicing, endurance, knowing yourself and using your technique to negotiate the twists and turns of the course most efficiently to arrive at a beautiful outcome. One doesn't want to show that the effort is difficult. I want the public to relax in their seats and be able to immerse themselves totally in the dramatic experience. I always want to feel sure of myself, not because I don't take risks--on the contrary--but just to be sure that the listener doesn't sense I'm taking risks.
LSM: This is your first time in the role. Has the opportunity presented itself before?
LF: I was asked to do the role several years ago, but it was too soon. The role requires a vocal and physical maturity that I didn't feel I had then. There are roles that should be sung only at a certain age, at least for me. And there are roles that one gives up as well. The voice changes, the texture and physiology of the voice change and one changes physically as time goes by. When I took on Traviata, it was the same--I started learning the character when I was 20, but I only sang it for the first time when I was 30. Some things take time to mature.
[Translation: Wah Keung Chan]
---
Version française...