Arion – A fresh take on Early Music

by Isabelle Picard / October 18, 2005

---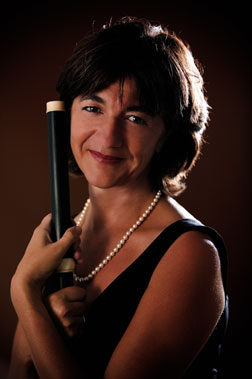 Twenty-five years ago, Claire Guimond had just finished her studies in baroque flute under Barthold Kuijk in the Netherlands and Hank Knox had been in Paris studying harpsichord with Kenneth Gilbert. A year later in 1981 in Montreal, the duo joined Chantal Rémillard (viola) and Betsy MacMillan (viola da gamba) to form a small chamber group, christening it "Arion." Today Arion is a baroque orchestra with an enviable reputation. It has performed under the baton of such top musicians as Monica Huggett, Jaap ter Linden, Daniel Cuiller, Barthold Kuijken, and Hervé Niquet. It has played in Canada, the United States, Mexico, and Europe, and has 22 recordings to its credit – something of a tour de force.
Playing early music today
Although early music was already well developed in Europe when Arion came on the scene, it was still nascent in Quebec; only the Ensemble Claude-Gervaise and the Studio for Early Music, inaugurated by Christopher Jackson in 1974, were in operation. Heated discussion surrounded questions of authenticity: should period or modern instruments be used? How was one to respect the score? What would be left to the performer's discretion?
"You have to start somewhere," says Claire Guimond. "What we enjoyed was getting close to the creative genius of the baroque composers – that is, trying to overcome the gap of two or three hundred years that separates us from them." She compares it to restoring paintings. "The colours and vitality are lost under dust and a thick coat of varnish. When the Sistine Chapel frescoes were restored, bringing out the original colours, people said, 'How alive, how vibrant it is!' That's more or less how we approach the question of authenticity – to provide a version that brings the listener closer to the composer's creative genius. At that moment, the music becomes today's music, although with a period aesthetic.
"When you touch early instruments you develop a taste for what is genuine," continues Guimond. "When you work with an instrument, you consult treatises on the subject. This is part of our job as musicians – going to the source and taking nothing for granted. This quest for truth means that interpretations have noticeably changed over the past 25 years."
Are early instruments necessary in this quest for truth? "I think they make it easier," says Guimond. "I don't think it's impossible to perform this music with modern instruments, but the instrument itself tells us much. With the baroque flute, for example, you have a wooden instrument with no keys. Each note has a special colour. I don't invent it – the flute dictates it. When Telemann composed in one key rather than another, he knew how it would sound. That's why I think using early instruments is part of this search for truth. It makes things much easier for us. Perhaps we're too lazy!"
But when one plays a historical repertoire and maintains a fairly scholarly approach to research, is it hard to put oneself into the music, to be creative as a performer? "Not at all," says Guimond. "At that time composers left plenty of leeway for the performers. There's a whole tradition of ornamentation and improvisation that's part of the baroque aesthetic. It's something we really like; there's a kind of freedom. Of course there are some rules, but you can be very creative. Often, for the bass continuo, you have just a bass line with numbers for the chord changes, rather like a jazz chart. The harpsichord has to improvise a lot, always using the composer's harmony and style."
The birth of Arion
In 1981, early music performers had little chance to exercise their art and had to create opportunities for themselves. Following good audience reaction to their inaugural concert at McGill's Pollack Hall, Guimond, Knox, Remillard, MacMillan and tenor Edmund Brownless (who stayed with the group only for the first six months) set off on tour.
"We went to the Maritimes on our first tour," Guimond remembers. "It was quite an adventure. We left in a borrowed family van – a real old heap – furnished with a mattress. For about six months there were five of us inside, along with the harpsichord, viola da gamba, and other instruments. The tour was followed by our first Montreal concert series, learning on the job as we went. We found out how to organize and promote concerts, and how to attract concertgoers. Since then Arion has developed its distinctive sound and found its place in Montreal's musical life."
After a few years the quartet expanded in order to take on new repertoire. Its size varied, first with the addition of local musicians, then with guests from outside the city. It was a stimulating experience. "These people brought their methods with them. It made things simmer," says Guimond, "bringing new blood into the group." The chamber ensemble finally grew to orchestra status some ten years ago. "I think Montreal needed a baroque orchestra that used early instruments," she notes. "Over time, the Early Music Studio specialized mainly in choral music." There was a vacuum waiting to be filled.
Change and continuity
Throughout its 25 years, Arion's approach, such as its pursuit of excellence and its rigorous attention to detail, have made their performances alive, fresh and personal. The fact that Arion grew from a quartet has also left its mark. The orchestra functions without an official conductor, thereby creating a rather collegial atmosphere. There are guest conductors for every project, which has allowed great flexibility. "Conductors come, work with a group that has its own personality, and there's an exchange of ideas and methods. It's something of an incubator for artistic vision and musical ideas – a very nourishing combination. We're privileged to be working with the greatest names in early music and great musicians." Thankfully, these are opportunities Arion shares with Montreal audiences. Without this orchestra, musicians like Barthold Kuijken and Monica Huggett would not be heard so often.
Arion has a special place in the Quebec musical landscape. It has had a loyal, "formidable" following for years, according to Guimond, but is still relatively unknown to the public at large. What about its future? "It must open its doors and reach new audiences." What about the artistic side? "We have lots of plans. What we need are the funds to carry them out."
For now, audiences await the start of a "Saison de délices" beginning October 28, as well as a Vivaldi tour in Montreal's cultural community centres in October and December. There are also the "Love Duets" tour with Suzie LeBlanc, Daniel Taylor, and Jaap ter Linden in November (in Sept-Iles, Rimouski, Shawinigan, and Alma), and three new CDs on its label early-music.com between now and winter 2007. Tours of Asia and Europe are in the works. Arion has indeed come a long way – and it's far from over.
Arion : www.early-music.com, (514) 355-1825
[Translated by Jane Brierley]
Favourite composer: There's the inimitable Bach, but I prefer not to name one as I think it would mean I liked the others less.
Favourite work: J.S. Bach's The Musical Offering and his B Minor Mass. Each time you work on it, you can go even deeper. Again, it's difficult to choose!
Current reading: Once minutos (Eleven Minutes) by Paolo Coelho, in Spanish.
Cell phone rings: The factory ring-tone. I'm not very picky. I prefer to turn down the volume or leave it in vibration mode.
Contest: Subscribers of La Scena Musicale can win one of three prizes courtesy of Ensemble Arion.
1st prize: a pair of subscriptions to Ensemble Arion's 2005-06 season.
2nd prize: 3 CDs
3rd prize: a pair of tickets to an Ensemble Arion concert.
---
Version française...