Turning Ten and Glossy!

September 22, 2005

---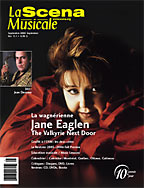 The other day I was strolling idly down an aisle of a department store and was startled by the booming voice of a father jovially saying to his kids "I sssm-ell scho-oool!" September signals the return to school for many but it is also the start of a new season. This September, La Scena Musicale is launching its tenth full year of promoting music. To celebrate turning ten, the magazine has adopted a new upscale format that offers greater possibilities for creative and flexible editorial as well as for advertising.
As you read this issue we hope that you will notice and appreciate the changes. Most of the pages are now glossy and the font size is slightly larger, making reading easier. You will also observe that the magazine is comprised mainly of a glossy section for feature articles and a separate high-quality newsprint calendar. Each section (News, Voice, Jazz, World, Reviews, and Musicians' Corner) boasts a distinctive place, and the jazz and product review sections have been expanded. The new calendar section offers more detailed listings (including jazz!), our concert picks, the return of our musical crosswords, and will showcase a young musician on the calendar cover every month.
Having a highly educated readership (92% has college education or above) means that our editorial team faces the enjoyable challenge of continuing to raise the bar on topics that captivate readers. This month we take on both sides of the ongoing Montreal Symphony Orchestra dispute, present an analysis of the famous aria Casta Diva from Norma, and profile Wagnerian soprano Jane Eaglen. A special preview of the upcoming season can be found in the calendar section.
For music lovers, musicians and the music industry, La Scena Musicale serves as a meeting place. With over 20% of our readers working in music-related sectors, the Musicians' Corner covers musicians' health, education, new products, industry news, and even includes something for parents, all conveniently found in the second half of the magazine. In this month's issue we discuss the various stresses that musicians experience, and British writer Norman Lebrecht gives a personal account of what it's like to perform in front of a live audience. As well, we introduce four exciting new products, and highlight the advantages of taking music lessons.
La Scena Musicale was born of a vision, nurtured with pure dedication, and raised on teamwork, persistence and sacrifice. Turning ten is a milestone. One of the ways we are celebrating this achievement is by bringing the magazine to another level – by going glossy and offering more features to delight you all. Thank you for your continued support!
Wah Keung Chan
Editor
---
Version française...
---