Natalie Choquette: Diva and Devotee

by Réjean Beaucage / May 14, 2005

---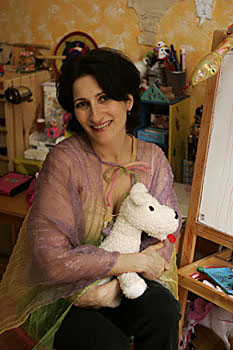 The saying "When a door closes, another opens" rings true for Canadian soprano Natalie Choquette. A failed audition for the Atelier lyrique of the Opéra de Montréal in the late 1980s allowed Choquette to focus on her own musical personality. Now one of Canada's leading musical humour personalities, Natalie Choquette has acquired a more than enviable popularity in recent years. All of the fictional divas she has created — Natalie Lipons, La Fettucini, La Castafiore, Chiquita Choquetta, and others — have met with success wherever she presents them. There is no arguing that her decision to blend opera and theatre with humour and fantasy was a daring choice that might well have alienated both opera purists and serious humour buffs. Yet her gamble has paid off. By making use of her personal experiences to express her deepest aspirations, Choquette successfully combines art and entertainment.
La Scena Musicale met Natalie Choquette to talk about the various influences that inspired her to create the set of offbeat characters she carries in her theatre trunk from South America to the Netherlands, and from Japan to Germany.
As the child of diplomats, Choquette's childhood was marked by frequent moves. Born in Tokyo, she began her schooling in Lima, Peru. At six and a half her family moved to Boston, at nine to Rome, at thirteen to Montreal, at sixteen to Moscow, and at seventeen back to Montreal to finish her baccalauréat at the Collège Marie de France. (On May 9 she'll be performing a benefit there for the college's international foundation.) It's no surprise to find her in a career still travelling the globe. "It's my karma," she says, laughing. "That's probably why I'm completely at home in different cultural settings."
It was in Italy that Choquette felt the first stirrings of a vocation. "My father's title changed each time he was moved. In Rome he was the Canadian Embassy's cultural attaché. We had more opportunities than ever to see shows, but he always liked classical music, while my mother was somewhat of a visual artist — a talent my sister has inherited. Also, my father is a great storyteller, something that greatly influenced my life, especially since the constant moves acted to bring the family closer together."
The young Natalie was first attracted to theatre. "When I was very young my mother took me to musicals. I was fascinated by the characters, the stage sets, and so on. Later, in Italy, I saw Aïda, but already, hearing Italians singing in the streets and waving their hands so theatrically in everyday conversation had made me fall in love with the place. There was art wherever you looked. And I was absolutely bowled over by the sound of opera. At the time, I dreamed of becoming a vet, so I was thrilled to see elephants and horses in Aïda. It all seemed like so much fun. After Rome, my father was transferred to the Vatican. That's of course, where I encountered sacred music, especially during a Christmas mass celebrated by Pope Paul VI."
Choquette's training continued at the Institut Saint-Dominique, where she was taught in French. It was during this time that she discovered The Sound of Music. Like opera, the film made her feel that pleasure and music were one. "I wanted to play all the characters — the children, Maria, and the captain! I was studying music with the Dominicans, who, of course, had a choir. I loved singing, and it was here that I encountered 'Soeur Sourire' and 'Dominique, nique, nique,' characters that I've sung about so much. We learned everything, even grammar, through music. It helped me feel that things became more natural through music. For our year-end show, I had the role of the Music Fairy." Leaving enchanting Italy for Montreal was hard, she says. "It was a paradise I had to be torn away from and I sometimes feel I've never really completely recovered!"
Back then, Natalie was already trying out the family piano and taking over her sister's discarded guitar to sing Neapolitan songs and Beatles tunes. It was one of her aunts who suggested that the fifteen-year-old have singing lessons. Her first teacher was counter-tenor André-Paul Bourret. "He lived in the north end of Montreal," she remembers, "and it took me an hour and a half to get there — but it was the highlight of my week." A year later, however, her father was posted to Moscow. Being in the grey, paranoid Moscow of the Brezhnev era meant having a new music teacher and with her, a new, very physical method. "She (the teacher) spoke Polish, Russian, and German, whereas I spoke French, English, Italian, and Spanish. I had to record the lesson, and have my father translate it in the evening." Choquette admits that Moscow's cultural life was worth the move, and that, as a young student, she took full advantage of it. "I'll never forget Boris Goudenov at the Bolshoï," she says. Although Choquette felt a growing desire to take part in this fabulous ritual, she continued to find it rather formal.
No thought of a career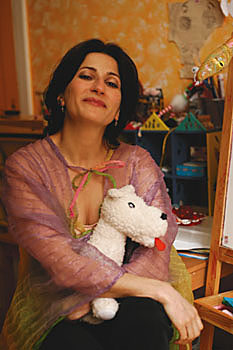 Back in Quebec once more, Choquette attended the Université de Montréal, studying voice with Roland Richard. "I had no thought of a career and never went through the rounds of auditions, except once, for the Opéra de Montréal's lyric workshop. I hated it! I'd rather sing in the shower than under those conditions. I admire those who do it, but I'd have to have a different personality. I don't like being judged when I sing; I do it for pleasure, and that's what I want to transmit. "Her degree completed, Choquette had many contracts singing in churches for weddings and other celebrations. Other engagements (one in a clown's costume) helped her develop her talent for entertaining a crowd. In no time, Choquette found herself in the Opéra de Montréal's chorus singing in — of all things — Aïda! Next she tried contemporary music in a Marie Pelletier work, and soon the word got around.
Reynald Arsenault was one of the composers paying attention to the rising star. "He helped me a lot, had me sing a Hallelujah composed for me. In the end I recorded it on my first CD. I'm so proud to see it beside the Bach and Mozart," she exclaims. A few good reviews got things going. As luck would have it, Swiss conductor-composer Pierre Huwiler was looking for a singer with solid technique, yet able to handle pop phrasing. He asked her to sing in his Gottarde for choir, soloists, and orchestra. Choquette also sang his Missa Alba with the Montreux Orchestra, a performance that catapulted her into the oratorio category, a repertoire which gives the singer stage fright. Still, she has been receiving a steady flow of invitations to perform in Switzerland. After these more serious concerts, Choquette trots out her theatrical talents with what she calls her "brunch" repertoire to amuse her fellow performers. It was after one such occasion that a colleague asked her to put together a cabaret show featuring this Puccini-to-Gilles-Vigneault act combining popular songs with operatic areas. The venture proved to be a great success.
Back in Montreal in June 1992, Choquette's talents were much appreciated in the gala show Les Muses au Musée created for the opening of Montreal's Museum of Contemporary Art. For the occasion, she performed as the Muse of Pantomime, improvising ("with an energy born of despair") for the guests. Their laughter exceeded all expectations, and not for the last time. Choquette's various incarnations of the eternal diva (she has nearly a 100 different ones) have delighted many opera fans while simultaneously introducing the great arias to a wide audience.
Choquette is active as official spokesperson for the first Montreal World Choirs International Festival (http://www.icmm.ca ), designed to promote choral music. She will perform in the opening concert (St. Jean-Baptiste Church, 8 pm) with works from her most recent CD, Æterna (ISBA, ISB CD 5107). This recording produced by her partner, bassist Éric Lagacé, also her musical director and arranger, doesn't feature her "La Diva" characters, but is instead Choquette's tribute to her beloved sacred music. It is a benefit project for the Quebec Cancer Foundation, for which she is also official spokesperson.
  Also in May, Choquette will take part in the first Maestra (Women in Music)  (http://www.maestramusique.ca ) Montreal festival where she will perform in its closing concert on May 8 at the Salle Pierre-Mercure. Entitled "Merci ma soeur!", the evening recognizes the nuns who contributed so largely in the musical education of many Quebec artists. A number of their compositions will be featured, and among them, some surprises. Performing will be Alain Lefèvre, Louise Bessette, Lise Daoust, the Claudel Quartet, Marie-Danièle Parent, Marie-Josée Simard, and Laurence Lambert-Chan. Translated by Jane Brierley
---
Version française...
---