Lorraine Desmarais: Big Band, Big Time: Three Takes on a Jazz Original

by Marc Chénard / April 9, 2005

---
Take One: The interview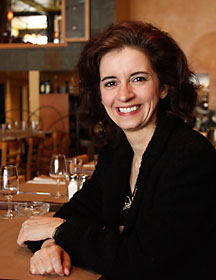 Lorraine Desmarais, a musician whose reputation has long been securely established, is now a veritable icon on the Quebec jazz scene. Although trained as a classical pianist, she began dipping into pop music early on, in the years before her breakthrough first prize win at the Montreal International Jazz Festival's annual competition in 1984. She has gone on to win Juno and Félix awards for her recordings, as well as the jazz festival's 2002 Oscar Peterson Prize (named for the brightest star in the Canadian jazz firmament with whom, coincidentally, she shares her August 15 birthday).
The year 2004 was certainly one of the most satisfying of Desmarais's career. In March of that year she headlined the "Elles Jazzent" show, along with four other Canadian women jazz artists, which was awarded the Opus Prize for jazz and world music concert of the year. Seven months prior, during the Montreal International Jazz Festival's twenty-fifth anniversary, she experienced a career highlight when she shared the stage with her "idol" Chick Corea. Her eyes still sparkle as she fondly remembers the moment, and the musician for whom she has great admiration.
Like all great artists, Desmarais keeps taking on new challenges. She's currently she's been involved in forming her own big band -- her most ambitious undertaking to date. The sixteen-musician ensemble, which brings together the cream of the local jazz scene, will début in April. The program features twelve compositions composed and arranged by Desmarais, four of them premieres. We met her on a blustery March afternoon to discuss her work.
Playing with a big band is "nothing new," she said. What is new is the combination of composing and arranging. "In 1998 I toured the American Midwest with Diva, an all-female band with whom I recorded an album for Arbors Jazz. Although I was only a performer at the time, the idea was planted in my head: I had to put together my own big band." This conviction solidified after playing a Latin music concert with the Montreal Jazz Big Band (as invited guest soloist), and performing with trombonist Hugh Fraser's Vancouver Ensemble of Jazz Improvisation at the annual conference of the International Association for Jazz Educators in Toronto, in 2002.
Desmarais took advantage of a yearlong sabbatical from her teaching job to plunge heart and soul into her big band project, which gives its premiere performance at Montréal's Nouveau Club Soda on April 14.
Writing for a large band isn't easy. "Before starting out, I listened to a lot of recordings -- not too many, but just enough -- and I was especially attracted by the wonderful work of people like Bob Brookmeyer and Maria Schneider," Desmarais explains. She hastens to add, "I also consulted two of the greatest connoisseurs in the field: local hero Vic Vogel, of course, but also Richard Ferland of the Université de Montréal, who is an expert when it comes to the technicalities of arranging."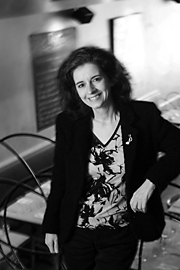 While composing-arranging is demanding, Desmarais found that it also helps one experience the music from different perspectives: "During the final months, for example, I learned how important breathing is. I can play without stopping, but one can't write overly long phrases for a trumpeter or a trombonist, otherwise you burn them out before concert's end. Basically, I learned something about the importance of economy."
While piano practise has had to take a back seat during her period of deep composing, Desmarais assures us it is not for long. In fact, in the week following the April premiere she will journey to Europe, where she will be performing as soloist with the Symphony Orchestra of Spain. She'll play one of her own pieces, Love, taken from her most recent and eponymous CD, as well as Gershwin's famous Rhapsody in Blue, one of her all-time favourite rep pieces.
Although Desmarais is a jazzwoman through and through, she also appreciates working with classical musicians, both in symphony orchestras and chamber ensembles alike. Such was the case of her previous recording "Blue Silence," in which she and her long-time band mates, bassist Frédéric Alarie and drummer Camil Belisle, were accompanied by four wind players from the Montreal Symphony Orchestra. This combination posed no problem to her: indeed, one need only assess the relative strengths of the jazzers and their classical counterparts, and then use them to their full potential. She finds it is enough to have mutual recognition among players of the qualities of the instruments, and for these to be used to their full potential.
After her Spanish trip, Desmarais will perform in Maestra, an event described as "the first international meeting of women musical creators." On May 7 she'll share the stage of Montreal's Spectrum with American pianist Joanne Brackeen. These superlative keyboardists have played together on one other occasion, during a past edition of the Montreal International Jazz Festival. This year they will present a historical panorama of women in jazz, with pieces ranging from Mary Lou Williams to originals of their own. Desmarais the composer will be featured as well, with her jazz-tinged sonata for flute and piano performed by Lise Daoust and Louise Bessette.
When this article hits the stands Desmarais and her big band will be hard at work rehearsing. Interestingly, she has not issued a recording in the last three years (and she admits being on "back order" in this respect), which may lead one to wonder whether this concert will serve as a springboard for her next CD. Yet, for time being, she is not ready to a make a commitment to retry, preferring to see (and especially to hear) the results first. Whether her big band outing signals an on-going pursuit or a one-shot-deal remains to be seen. Yet, whatever the outcome may be, Desmarais is confident about one thing: "I know I've found my own voice in this medium, and for those who will be there, I can tell them that they will recognise that it is indeed Lorraine."
Take Two: The Blindfold Test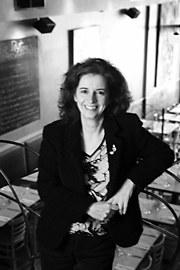 Lorraine Desmarais agreed to take the following test: five pieces performed by big bands of different eras were given to her on a CD-R, with no information about the tracks chosen. Her answers were sent via email. Items 3, 4, and 5 form a short suite and only count as one selection. The musical selections:
1. Duke Ellington: Amad (1964); Far East Suite (RCA Bluebird).
2. Carla Bley: Walking Battery Woman (1980); Selected Recordings (ECM)
3. 4. 5. Bob Graettinger: City of Glass (1947 version). Ebony Band, Gunther Schuller conductor (1991) (Channel Classics).
6. Barry Guy (Barry Guy New Orchestra): Tableau IV (1998); Inscape-Tableaux (Intakt). Soloists: Barry Guy, bass, and Marilyn Crispell, piano.
7. Jean Derome: Vancouver Vamp (2000); Rub Harder (VICTO); Hard Rubber Orchestra of Vancouver, John Korsrud, conductor; soloist: Ross Taggart.
Take Three: Responses
1. "The unmistakable swing arrangement of the saxophones is reminiscent of Ellington's 'Jungle' style. Freed from the constraints of chording, the orchestral flow is underpinned by a pedal tone throughout. This ostinato, punctuated by a solid rhythm section accompaniment, gives the piece a modalflavour that puts the listener in a trance-like state, perhaps reminiscent of jazz's African origins."
2. "A swinging fanfare-like theme backed by a rhythm section, in which the dominant arrangement heralds a bluesy Hammond B-3 solo. Trumpet, sax, and trombone then follow with frenetic improvisations, with the rest of the band burning its way through various rhythms, all of which leads back to a recap of the opening theme."
3. 4. 5. "What a contrast! We're swept into an orchestral world of symphonic dimensions -- full of highly dissonant chords and counter-rhythms to boot. The strings make the most of their potential, with eloquent lyricism alternating with bursts of subtle pizzicatos. The second piece is notable for its American jazz sound accompanied by European polytonality, out of which springs a short swing-like passage. The last movement features exotic rhythms and percussive Latin-American colouring, developing in a subtly modern harmonic atmosphere imbued by the spirit of jazz, especially when the big band erupts into a brilliant and majestic swing section that blows the listener away."
6. "This piece features an intense running dialogue produced by a very close musical relationship within a conventional piano trio setting. Delicate cymbal work, cool but very expressive piano, and some lyrical bass-playing that dovetails into a solo with dramatic plucking of the strings... a kind of prelude to an orchestral requiem, with brass, bowed bass, and the shadowy clash of cymbals bringing this poetic excursion to a final peaceful conclusion."
7. "Very swinging piece this is. Throughout, there is a tenor sax solo, very modern in tone, that emerges within some very ingenious and highly effective arranging. As the piece unfolds over a single chord, there is a growing meditative and almost obsessive nature to it, further underscored by the entries of trumpet and strings, which are in perfect symbiosis with the band."
[Translated by Jane Brierley]
---
Version française...