André Laplante—A Fine Balance

by Lucie Renaud / March 16, 2005

---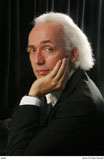 If Liszt's life was punctuated by glory and fame, that of Canadian pianist André Laplante -- a Liszt specialist -- has been inked in the sweat and tears of daily trials. Strongly grounded in the ever moving soil of existence, his journey has been etched with joy, sometimes fleeting, sometimes more durable. Delicate artistic choices have had to be made through the years. Over the years he has grounded this atypical course in the joys of sharing his love of the repertoire with his public and, more recently, with the coming generation of pianists. Now in his fifties and at the height of his musical strength, he looks back philosophically at past choices that have enabled him to play both the Classical and Romantic repertoire with equal pleasure and ease, while still preserving his individual touch.
Laplante was born in the small Quebec town of Rimouski, where, like many musicians of his generation, he first encountered the piano at the local convent. When his family later moved to the outskirts of Montreal, he was able to continue his musical education at the École Vincent-d'Indy (the music faculty of the Université de Montréal) with Yvonne Hubert.
"I had a hard time adapting," he recalls. "At 14 I found myself in a professional milieu where my teachers felt I had great versatility. Accordingly, they suggested I work on Liszt and Rachmaninov, partly for the dramatic effect."
He continued his studies at New York's Juilliard School with Sascha Gorodnitzki and in Paris with Yvonne Lefébure. Among the concerts he attended in Paris was a memorable one by Gilels. "I adored Gilels," he says. "I remember a concert in Paris where he opened with Mozart's Sonata K. 533. I'll never forget how it presented me with a rainbow of unbelievable possibilities. Gilels could produce an extremely soft piano that could be heard all over the hall. He was wonderful with the Russian school, but at the same time could approach Mozart with incredible finesse and breadth. It felt like crossing the ocean in one night."
Although Laplante already felt drawn to classical composers, despite not focusing on them in performance, he continued his prescribed round of training and the inevitable international competitions. He made a good showing at the Jacques Thibaud Competition in 1973 and did the same in Sydney in 1977. The following year he won the silver medal at Moscow's Tchaikovsky competition, competing with 91 pianists. This catapulted him onto the international stage, where he was immediately dubbed a "Romantic pianist." The label stuck for several decades. "When you win the Tchaikovsky, there's no going back," he says. "But I'd rather be known as simply a musician." There followed concerts in Canada, the US (at Carnegie Hall among other venues), in Europe, and Asia, including a lengthy tour at the invitation of the Chinese People's Republic. Critics praised his virtuosity, "vigorous Romantic intensity" (Chicago Tribune), and "rare poetic instinct" (The Guardian).
Laplante already felt that the ordinary musical career path wasn't entirely to his liking. "I love the turn-of-the-century pianists – Kempf and Gieseking playing Debussy, for example. It wasn't technically perfect. Technological advances have caused a lot of confusion about perfection. CDs are little gems of perfection. For artists who believe in the need to play there are clear choices to be made. Some opt for a more technical beauty. Others – and I'm one of them – decide to delve deeper. It may have taken me longer to develop in this direction, but you have to maintain a balance and conserve energy for the good things. It's difficult to evolve as an artist while preparing your work and fitting everything into your concert schedule. I would have had to do a lot of Russian, Romantic, post-Romantic and 20th-century repertoire. I love it but I needed something more anchored."
At this point he left Columbia Artists for personal management and decided to invest a good portion of his time working on the previously neglected repertoire. By working with pianists who specialized in this category of music he would get to know its subtleties and confirm and compare his own impressions, taking the time to adapt.
Invitations to perform didn't come so frequently, but Laplante stuck to his new regime. The results speak for themselves. In January 2005 he played Mozart's Concerto K. 271 and Concerto for Three Pianos with the Toronto Symphony.
Tuning into Mozart
"With Mozart, you have to imagine the court with its wigs, wit, and flourishes, all of which are represented in the music. You have to establish a fine balance between the objective and subjective approach. Some years ago I thought I'd never be able to adapt to this style, but I found I could do it. It was a real challenge, but to tell the truth I've played these concertos and never felt so right, so spontaneous before. Without doubt it was one of the best weekends of my life." Distinguished pianists who were present that evening were amazed at Laplante's achievement.
Laplante is sharing his perpetual quest with a few young pianists who either work with him in his studio or during master classes at conservatories and universities. "It's important for a pianist to have both talent and curiosity," he says. "I'm not very possessive: I encourage my students to play for others, to get ideas before coming back, and to discuss them. Eighty-five percent of what happens on the stage comes from the intentions you've formed beforehand. If your idea is to do another small, perfect concert, that's what the audience will hear. Everything depends on research, the way you've worked, the questions you've asked yourself... The more questions you ask, the more you free yourself of a fear of performing, and as a result things become clearer. That's why I'm glad to be there as a guide.
Pianist Tristan Lauber, who continues to profit from Laplante's advice on occasion, speaks of him with affection.
"He's a sincere musician, generous, very straightforward, and very inspiring because he never stops researching. He always sees the glass half full and always begins by putting the student at ease. No matter what point I'd reached in preparing a work, I always came out of these meetings more motivated and inspired than when I went in."
Laplante feels it's equally important to get mind and body on the same track. "When I was a young pianist, people showed me how to develop strength of mind, but they forgot the body. We must learn to channel our energy, otherwise a kind of fear develops in us. It's also important to bring mind and body together. We become obsessed with the keyboard, the fingers, this and that -- and suddenly we aren't listening to ourselves. In concert you must have the confidence to go before an audience and breathe, presenting ideas and emotions clearly, because there's more to us than simple logic. We can organize things, but we can't control the fact that we're emotional animals."
Laplante finds this fusion of mind and body in the playing of pianist Richard Goode. "Why is Richard able to play the fugue of Beethoven's Opus 106, which is positively unplayable? Because he hears the phrase he wants to play and transmits it clearly. Richard was never a superstar; he was always a musician's musician, because he knew exactly what he was doing and was so immersed in music. That's what I wanted to do, what I wanted to become. I greatly admire this type of career path." Tristan Lauber unwittingly echoed this praise. "[Laplante] is a pianist's pianist. He has one of the finest keyboard touches and still personifies the musician who is preoccupied with producing a great sound."
Laplante views this delicate balance between two poles, Liszt and Mozart – "my Arctic and Antarctic" – with relief and pride. When asked if he would like to be remembered one or two centuries hence, he says, "First of all, I dare to hope that I've given a lot through my music and my teaching. I'd like to inspire people, perhaps, to think about the fact that I was born in Rimouski, a little backwater, that I moved to another small community on the outskirts of Montreal, that I learned music almost in spite of myself, that I explored the classics much later in life, which wasn't easy, that at times I didn't have much work and haven't had a career that went in one direction only, but that in the end I found balance and incredible joy in playing. You can always learn, be happier, communicate better. I'm no hero, and I'm not interested in being employed. What I want is to help young people understand that when you do what your heart desires, it's always worthwhile. It's a question of letting go and finding your point of equilibrium."
André Laplante, who was inducted as Officer in the Order of Canada, will perform in concert in Montreal on March 22, 2005, with the Montreal Symphony Orchestra. The program will include Concerto for Left Hand by Ravel, another composer with whom Laplante has been much associated.
Information : http://www.osm.ca.
[Translated by Jane Brierley]
André Laplante will lead a master class at 9 am on March 18 in the Gabriel-Cusson auditorium of the Montreal Conservatory of Music (free entry).
---
Version française...