Ces mots dits du jazz

Par Paul Serralheiro, Marc Chénard / 15 février 2005

---
Peu de musiques ont été davantage traitées sous toutes les coutures que le jazz : dictionnaires, histoires, manuels d'apprentissage pour jeunes musiciens, biographies, introductions, guides discographiques, essais, œuvres de fiction, on en trouve pour tous les goûts et tous les degrés de connaissance. Il n'est donc pas surprenant que le néophyte se sente désemparé devant le nombre de livres traitant du sujet. Sans prétendre à un choix définitif, la petite sélection d'ouvrages de référence qui suit saura donner un petit coup de pouce à ceux et celles qui souhaitent se mettre sur la piste de ce vaste domaine musical.
Is there any musical genre that has been as much written about as jazz? Dictionaires, biographies, histories, how-to books, essays, works of fiction, you name it, and someone has done it already. For this reason, the novice often finds himself at a loss when standing in front of the shelves of a well-stocked bookstore. By no means definitive, the following list of titles will provide some helpful reading material for listeners of all stripes.

Dictionnaire du jazz
Philippe Carles, André Clergeat, Jean-Louis Commoli (dir.) ; Robert Laffont, Coll. Bouquins, 1121 p., 1994
Ouvrage de référence par excellence en langue française, il ne comporte pas moins de 2500 entrées biographiques et définitions de termes. Avertissement : la seconde édition remonte déjà à plus de 10 ans et une mise à jour serait bienvenue. Marc Chénard





Le Jazz
Jean Sébastien Bosse ; Éditions Milan, Coll. Les essentiels, No. 60, 60 p., 2000
Dresser le portrait d'une musique plus que centenaire en 60 pages pourrait sembler un peu mince, mais ce petit bréviaire illustré donne un survol quand même décent du sujet, incluant certaines tendances de l'heure. Excellent à lire si vous avez un peu de temps avant de prendre un vol ou un train. Marc Chénard
Histoires du saxophone
François et Yves Billard ; Éditions Climats, 540 p., 1995
Vous avez un faible pour le saxo ? Vous serez comblé par ce pavé. Bien que le gros de l'ouvrage traite des maîtres de cet instrument en jazz, on aborde aussi son histoire en musique classique et quelques-uns des interprètes dans ce créneau. Excellent index qui identifie en gras les saxophonistes et les pages où l'on traite spécifiquement d'eux. Marc Chénard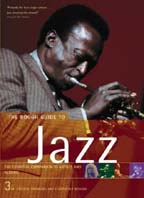 Jazz: The Rough Guide
Ian Carr, Digby Fairweather, Brian Priestly ; Rough Guides Limited, 927 p., 2004
Although a novice might choose titles like Jazz for Dummies, and Jazz 101, Jazz: The Rough Guide is a better choice. Not only is it more complete and thorough than the aforementioned, it is very good at bringing in the readers at the ground floor and leading them quite far in their search of nearly 2000 biographies. A glossary of jazz-related terms is also included. Paul Serralheiro





Jazz: A History of America's Music
Geoffrey C. Ward and Ken Burns ; Knopf, 512 p., 2000
Probably one of the most impressively illustrated jazz books out there, Jazz: A History of America's Music is the print by-product of Burns' 10-part documentary that aired on public television five years ago. Each chapter takes up a part of the series and develops a thesis exploring aspects of the social and political meanings of this music in America. Paul Serralheiro
Penguin Guide to Jazz on CD
Richard Cook and Brian Morton ; Penguin Books, 1728 p., 6th edition, 2003
This CD guide is an invaluable source of information on jazz and comprises well-researched, up-to-date biographies as well as critical evaluations of recordings. The authors, music journalists both, bring passion and precision to their writing and provide fans with authoritative information on issues in print. Paul Serralheiro
Oxford Companion to Jazz
Bill Kirchner ; Oxford University Press, 852 p., 2000
More scholarly in tone, yet serving as a good introduction to the subject, the Oxford Companion brings a refreshing tone to jazz writing dedicated to the general public. Its 60 essays written by performers, writers and scholars, cover all styles, periods, artists, and instruments in factual terms, while still stimulating thought. Paul Serralheiro
Jazz Plus
jazz@scena.org
Mercredismusics, série de musiques improvisées et actuelles à chaque mercredi du mois. Casa Obscura, 4381 Papineau (20 h 30) 527-0592 ou www.casaobscura.org
4 et 5 fév. (21 h 30) Quintette du guitariste torontois Andrew Scott (jazz swing, mainstream) Bar Upstairs, 1245 McKay, 931-6808
5 fév. (20 h) Susie Arioli Swing Band (Jazz swing) Premier de quatre concerts mensuels donnés dans le cadre de la série « Jazz et Justice » Église unitarienne de Montréal, 5035 de Maisonneuve O. Infos : 251-1777 ou www.ucm-2.ca/jazz
9 fév. (20 h) L'Ensemble en pièces (jazz contemporain) Maison de la Culture Notre-Dame-de-Grâce, 3775 Botrel, 872-2167 (en reprise le 23 février, 20 h, à la Maison de la Culture Côte-des-Neiges, 872-6889)
12 fév. (17 h) Marianne Trudel, solo piano Cathédrale Christ-Church, 1444 Union, 843-6577
15-17-18 fév. (20 h) Jump Jazz Rhythm Project (jazz swing) Théâtre Outremont, 1240 Bernard O., 495-9944
17 fév. (20 h) Arturo Sandoval et Yoal Diaz Quartet (jazz latin) Le Métropolis, 59 Sainte-Catherine E., 844-3500
19 et 20 fév. (20 h) Omar Sosa (jazz latin et électro) Le Kola Note, 5240 du Parc, 274-9339
22 fév. (19 h 30) Quatuor de contrebasses (Z. Lober, P. Y. Martel, M. Perkin, A. Jedady) Quatuor de saxophones (R. Bolduc, J. Miller, C. Doxas, E. Hove) Zeke's Gallery, 3995 Saint-Laurent, 228-2233
23 fév. (21 h 30) Bernard Falaise, Alex McSween, Fabrizio Gillardino + Bob (musique impro et actuelle) O Patro Vys, 356 Mont-Royal E.
Comme toujours, on vous invite à consulter le site sortiesjazznights pour un calendrier hebdomadaire détaillé des activités à Montréal et dans la région environnante. Les intéressés sont priés de noter qu'il est possible de s'abonner gratuitement à sa liste courriel (voir adresse ci-dessous).
Avis aux diffuseurs et promoteurs de spectacles
Si vous avez quelqu'information concernant des spectacles de jazz et de musiques connexes, nous vous invitons à nous la faire parvenir par courriel à l'adresse ci-dessus. Question d'espace, nous ne pouvons garantir l'inclusion de toutes les infos dans cette chronique. Date de la prochaine tombée : 15 février 2005.
As always, we invite you to take a look at the sortiesjazznights website for detailed listings of shows in Montreal and surrounding area. And to make things even easier, you can sign up to receive a free weekly e-mail alerting you to upcoming shows.
Note to concert presenters and promoters
Presenting or promoting a jazz or improv music show? We invite you to send your information to the address at the top of this column. Due to space limitations, we cannot guarantee that all listings will be included. Next deadline: February 15, 2005.