Montréal/Nouvelles Musiques, Boudreau et Bouliane: Visions of the Future

by Réjean Beaucage / February 15, 2005

---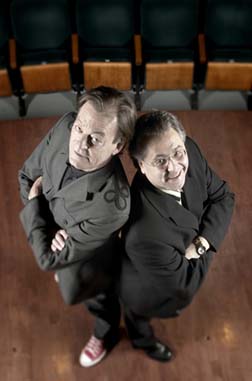 For some time now, composers Walter Boudreau and Denys Bouliane have formed a dynamic tandem, organizing a host of major musical events. Codirectors of the festival Musiques au Présent, organized by the Orchestre symphonique de Québec in 1998, 1999 and 2000, they were also behind the Symphonie du millénaire, a collective work by nineteen composers marking the millenium and performed in Montreal on June 3, 2000, by a fantastic group of 333 musicians. Denys Bouliane, who is a McGill University music professor and head of the Contemporary Music Ensemble (CME), also founded festivals such as MusiNovembre (1998), MusiOctobre (1999), and, in 2002, MusiMars--an event held biennially, alternating with Boudreau and Bouliane's most ambitious project to date, the international festival known as Montréal/Nouvelles Musiques (MNM), whose second edition will be held in February-March, 2005.
Although it may seem a matter of course for a city like Montreal to hold a major international contemporary music festival, it would be misguided to believe that the creation of the MNM happened spontaneously, or even, that the second edition is a done deal. "The second edition is even more difficult to organize that the first," explains Walter Boudreau. "One reason is that we in Quebec tend to launch things without ever following up on them. We're the 'one night stand' champions." (Two examples are the contemporary music festival Semaine internationale de musique actuelle de Montréal, organized in 1961 by Pierre Mercure, and the Journées du XXe siècle, organized by the Montreal Symphony Orchestra in 1995.) "Moreover," adds the Société de musique contemporaine du Québec (SMCQ) director, "there's nothing in our support system for the arts or government infrastructures that seems to have been conceived with the idea of future international development. We'll be given a single grant to give concerts in Europe, and then nothing! But for this kind of funding to bear fruit, it needs sustained support. Also, the success of the first festival has had a negative effect, practically speaking, because it made granting agencies believe that we could from now on dispense with their help. As a result we had to start from scratch convincing all these agencies that our project was important. Unfortunately, there's no long-term vision here."
"The problem," remarks Denys Bouliane, "is that forty or fifty years ago, when various agencies such as the Canada Council for the Arts were set up, it was to help establish an artistic culture; the system worked well and was extremely positive. We know that today, Quebec and Canada is a hothouse for all kinds of talents, but the support tools for these remain the same. It was never realized that once passed the initial pioneer stage, we could be in a position to form partnerships at an international level. Currently, there's no cultural policy for developing music in Canada, and no leadership, so it's obviously difficult to get involved in ongoing activities. To work in partnership with such institutions as Radio France (as we're doing for MNM by developing links with the festival called Présences), to commission works from composers, to plan for costs, and to sign on any major conductor, ensemble, or soloist, we need to be able to firm up plans several years in advance. The job of artistic direction is something relatively new in our society. It involves long-term artistic vision, and regrettably, that's still lacking in the institutions whose mandate is to support us. Ninety percent of our time is spent, not in working on the festival program, but convincing people that there must be an established continuity. It's hard work!"
It goes without saying that where events involving international partnerships are concerned, planning must begin more than two years in advance. The music milieu here has achieved an undeniable maturity and it requires tools that will enable it to display its talents on the international stage. An organization like that of the Montréal/Nouvelles Musiques festival was definitely lacking in our musical landscape. It's to be hoped that our government institutions understand this, and that we won't have to start from scratch come the 2007 or 2009 editions. Luckily, the perseverance of the Boudreau/Bouliane team seems inexhaustible and their ingenuity in finding means of continued support offers proof of a very artistic form of creativity indeed.
The French connection
MNM's 2005 edition, produced by the SMCQ in partnership with McGill's Faculty of Music, the Montreal Symphony Orchestra, Espace musique, and CBC Radio Two will emphasize music of France. Through its liaison with Radio France, MNM will offer twelve works premiered at that network's Présences festival (its 15th edition is being held in Paris from January 29th to February 13th, 2005). Four of these works, by French composer Marc-André Dalbavie and Canadian composers Jean Lesage, Alexina Louie, and John Rea, have been co-commissioned by Radio France and Radio-Canada.
When Bouliane coordinated Quebec's participation in the 1999 edition of Présences, the works of some twenty Quebec composers were played in the festival, at which both the SMCQ and the Nouvel Ensemble Moderne (NEM) were performing. This year MNM will be host to the ensemble Court-Circuit and its conductor Pierre-André Valade, and will feature works by composers such as Bernard Parmegiani, Philippe Leroux, François Bayle, Martin Matalon, and Philippe Hurel.
As Bouliane explains, "It's impossible to have a single theme for all the concerts in a festival with twenty different programs. It would become boring. We try to be more flexible and to focus on a certain type of composer. Accordingly, we'll have more than one work by some composers, giving audiences a better idea of their creative scope. The music of Brazilian composer Martin Matalon, for example, will be performed by Court-Circuit and the CME (doing Las siete vidas de un gato, his music for the film Un Chien andalou, which will be screened). The music of Marc-André Dalbavie, who is the focus of this year's Présences, will be performed by Court-Circuit and the MSO. The NEM will perform Phillipe Leroux's music twice, and so on. The composers will actually be here, giving lectures and master classes where people can discuss their work with them."
Apart from guest composers, other French composers will be present, albeit in spirit. These include Olivier Messiaen with works performed by the Toronto ensemble, Art of Time, and by the Ensemble contemporain de Montréal (ECM), as well as Pierre Boulez, who'll be virtually present via Jean Mitry's film Symphonie mécanique, featuring Boulez little-known electroacoustic music. Explains Bouliane, "There will also be a film with Boulez about Stravinsky's Les Noces, screened just before the work is performed by the SMCQ and the McGill Chamber Choir." The McGill Symphony Orchestra (MGSO) will be performing Symphonie no 1 by Henri Dutilleux.
There will be no lack of Canadian content. Audiences will hear a work by Serge Provost for vocal quartet (the Hilliard Ensemble) and string quartet (the Quatuor Bozzini); two of his other works will be performed by the NEM and pianist Brigitte Poulin. Michel Gonneville will join the group Espace sonore illimité (formed by composers Alain Dauphinais, Alain Lalonde, and André Hamel) to present Symphonie des éléments, performed by the musicians of the Conservatoire de musique de Montréal and the École Joseph-François-Perrault. Gonneville's music will also be performed by the Hilliard Ensemble. Jean Lesage's Les mécanismes multiples de l'ivresse et de la nostalgie, which is having its world première at the opening concert of this year's Présences festival, will be performed by the MSO in the final concert of the MNM. Alexina Louie will be in Montreal to hear her music performed by Court-Circuit and Toronto's Esprit Orchestra. Quebec's association for research and creation of electroacoustic works (ACREQ) will devote an entire evening to the video music of Jean Piché, and the group Réseaux will do the same for Gilles Gobeil's acousmatic music. Audiences will also hear one work by each of the codirectors, Bouliane's performed by Esprit Orchestra and Boudreau's, by the SMCQ ensemble and the Evergreen Club.
The New Music Concert will salute Canadian pioneers (François Morel, Serge Garant, Robert Aitken, Bruce Mather, and Gilles Tremblay). Among the young generation, Jean-François Laporte will have a major work performed in the festival's second concert by the saxophone quartet Quasar; the MGSO will perform a Nicolas Gilbert work; and the ECM will present a new work by André Ristic.
In short, many great discoveries to be made at this year's Montréal/Nouvelles Musiques festival held in Montreal from February 28th to March 10th.
[Translated by Jane Brierly]
February 28th to March 10th 2005
Montréal/Nouvelles Musiques 514 987.6919 / http://www.festivalmnm.ca
---
Version française...
---