Opéra de Montréal New Team, New Initiatives

by Réjean Beaucage / October 4, 2004

---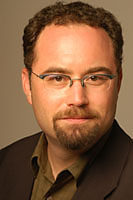 The Opéra de Montréal's 2004-05 season marks the real début of the organization's new administrative team. Working together are Bernard Labadie, artistic director of the OdeM since 2002, and David Moss, who celebrated his first year as general manager in August 2004. This new and dynamic administration is looking forward to the Opéra's twenty-fifth anniversary year as a time for fresh endeavour. David Moss spoke to La Scena Musicale about what motivates and inspires his work.
LSM: The introduction of three new projects--school matinées, the coOpéra concept, and Technopéras--seems to show a definite priority on the part of the OdeM for grooming young audiences.
David Moss: The arts and creative activity in general have a lot to offer young people who are lucky enough to experience them. Someone with a creative spirit can be a very involved citizen, both sensitive and responsible. It's not so much a priority for sensitizing a young audience with an eye to selling more subscriptions; rather, it's the fact that we feel there's a serious lack in this respect in Quebec. You can't say that our educational system strongly emphasizes cultural activities. I'm involved in the steering committee of the Journées de la culture and a founding member of Culture Montréal because I believe that culture can contribute enormously to the community. It enables citizens to appreciate living in a large city and creates a sense of belonging. We're not making a contribution because we're looking for audiences. Of course, we should be developing our public, but that's another matter. I think we have something to share in the way of skill and knowledge. We may not have all the resources needed, but we're working at expanding them in the long term.
LSM: But surely your new activities this season must cut into your budget?
DM: Let's say that we have formed effective strategic partnerships. The city of Montreal is helping us with coOpéra and TechnOpéra. We're creating other partnerships, too: school matinées with Dido and Aeneas are produced in co-operation with the Atelier lyrique de l'Opéra, the National Theatre School, and the Monument National. We're trying to offer a quality product without affecting our operating budget. It's part of the company's public relations effort as an active member of the community. Our major productions are what drives the company, but we want to nurture them with something more profound and to make the public realize that a cultural institution isn't just a ticket-selling machine! We have a contribution to make toward society's development, even if indirectly--that is, through ways that aren't necessarily linked to the work of a cultural institution. People talk about social development with the schools or economic development in relation to our partnership with the Chamber of Commerce.
LSM: One wonders what your predecessors were doing all this time . . .
DM: You must remember that there was a fairly long transition period between managing directors. Of course Bernard and I have ideas and we believe that what we're doing this season is appropriate for the institution that we want to continue building; however, we're not there to criticize what was done before our time. You could even say that the "old régime" built an opera company that is internationally recognized--one of the fifteen greats in North America. Beginning from this standpoint, we have a fairly clear vision of where we want to go.
LSM: This year you've formed a partnership with the Nouvel Ensemble Moderne to mount an opera by Isabelle Panneton. In 2002-03 you collaborated with the Société de musique contemporaine du Québec for The Rape of Lucrecia. Does general management feel comfortable about these incursions into a less popular musical world?
DM: I rely completely on the OdeM's new artistic vision, which of course comes from Bernard Labadie. It fits in perfectly with the development strategy that I want to put in place. Of course we have to respect the great classics, but that shouldn't prevent some diversity in our programming. We had Robert Lepage's staging of Bluebeard's Castle last year. You might say we really missed the boat twelve years ago with this opera, mounted in Toronto, as with François Girard's staging of Stravinsky's Oedipus Rex. Just think what a Denys Arcand could do, for example. There is such a pool of creative people in Montreal that could be gathered around the OdeM. Projects are certainly not lacking!
LSM: But from a budgetary standpoint, don't you consider this kind of production risky?
DM: It's a delicate balance; financial stability is absolutely necessary. Prudence remains the order of the day. We hope for an increase in our budget that would make it easier to take risks. We're fifty percent financed by ticket sales and we sold 70,000 tickets last year--that is, ninety percent of our seating. This doesn't leave a wide margin for manoeuvre. Montreal as a cultural centre deserves a first-class opera company, and it's our mandate to provide it. [Translated by Jane Brierley]
Turandot at L'Opéra de Montréal
October 2, 4, 7, 9 and 13 at 8 pm; October 16 matinée performance at 2 pm in the Salle Wilfrid-Pelletier at Place des Arts / www.operademonteal.com
Please note: Soprano Frances Ginzer, scheduled to sing the title role, has cancelled her contract due to illness. She will be replaced by Canadian soprano Anna Shafajinskaia.
---
Version française...