Opéra de Québec Captain of the Ship

by Isabelle Picard / October 4, 2004

---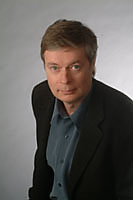 LSM: You've been General Manager of the Opéra de Québec since 1996. Prior to that, from 1994, you were Administrative Director. Since July 2003 you've also been the company's Artistic Director. Would you say that being Artistic Director is a high point in your work?
Grégoire Legendre: Yes, indeed, as I have an artistic past. I sang for some twenty years--and several times for the Opéra de Québec before becoming administrative director, from 1986 to 1992. Actually I've done almost everything you can in an opera company over the past thirty years. At the same time I've studied opera administration and worked for a time in the private sector. This varied experience gave me the background to deal with all aspects of a cultural organization. It's always interested me, I must say. I've always kept my eyes and ears open to the subject. We teamed up with Bernard Labadie for nine years (beginning in 1994), a collaboration that worked exceptionally well. Finally, the logical culmination of my work was to take over the artistic direction, because the artistic side is what I care most about in this métier. I've been immersed in it all my life.
LSM: Would you say that your experience as a singer helps in your work as Artistic Director?
GL: Definitely! When I come to an audition, it's as though I'm on both sides of the table, having presented myself at auditions as a singer for a number of years, I'm able to see a bit further. From the standpoint of choosing performers, that gives me an obvious advantage. As for choosing repertoire, I've clearly had the opportunity of becoming familiar with much of it as a singer.
LSM: How do you see the role of artistic director and that of a general manager in an opera company?
GL: The artistic director is responsible for everything that happens in the opera from the artistic viewpoint. This ranges from the choice of programs to the choice of performers, the way rehearsals are planned, and so on. The general manager is responsible for relations with all the partners and other entities, as well as for the financial resources, personnel, budgets, fundraising, grant applications, and so forth. The challenge for a general manager, as in all cultural organizations, is to convince the public and politicians that there is a proven link between a strong cultural life and the economic prosperity of a country or a city. Culture reflects enthusiasm, excellence, and quality. It is also, in my humble opinion, one of the highest manifestations of human nature. And I must say that we're living through a time that demands enormous effort on this level for all cultural enterprises.
LSM: What are Opéra de Québec's main objectives?
GL: First, to bring back the educational program for the elementary school level, which we had to stop because we lacked the funds. I think it's a top requirement, and we're going to have a new program in 2005-2006. The other challenge is to improve our financial situation. It's difficult at present because of increased costs in all areas and decreased funding at certain levels. Another objective is to seek more funding from the private sector. At the moment we're restructuring our fundraising and sponsorships campaigns. We have also been rethinking our annual benefit event and will have a benefit concert in mid-season.
LSM: Can you tell us a bit about your choices for the 2004-2005 season?
GL: I try to present popular works as well as works that have never been given in Quebec City, but which are also part of the great opera repertoire. In October this year we'll present Verdi's Masked Ball for the first time in this city. I'm also trying to bring French opera to the fore. In May we'll do Offenbach's Tales of Hoffmann, which hasn't been given in Quebec City for sixteen years. It's a work that offers lots of scope for fantasy. I try to alternate between dramatic works and ones that give more play to fantasy.
In Ballo in Maschero at L'Opéra de Québec
October 16,19, 21 and 23 in the Salle Louis-Fréchette of the Grand Théâtre de Québec, 418-529-0688 or 1-877-643-8131 / www.operadequebec.qc.ca
---
Version française...