McGill University Celebrates 100 Years of Music

by Marielle Leroux / September 9, 2004

---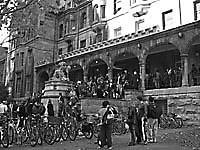 Considered one of Canada's finest universities, McGill enjoys a distinguished international reputation. A major contributor to the fame of this great institution is its music faculty, known for the excellence of its teaching and research programs as well as its concerts and various musical ensembles.
McGill's origins date back to 1813, when the Royal Institution for the Advancement of Learning received a legacy from fur trader and philanthropist James McGill. This consisted of £10,000 and about 46 acres of land. In 1821 King George IV signed the royal charter creating the University of McGill College, which in 1885 became McGill University. In 1829 the Faculty of Medicine began giving courses, followed by the Faculty of Arts, which opened in 1843.
Music made its appearance at McGill with courses offered for young ladies only, beginning in 1884. In 1896 the university's chancellor, Lord Strathcona (the Canadian railway baron Donald A Smith) founded Royal Victoria College for young ladies and invited pianist Clara Lichtenstein to come from Europe and take charge of musical education.
In 1904 the McGill Conservatorium of Music was established, thanks to the efforts of Clara Lichtenstein, Lord Strathcona, and Principal William Peterson. (This body would give birth to the Faculty of Music in 1920.) Courses at the conservatory began on September 21 with a student body of 426 and a teaching staff of 23. Pianist Ellen Ballon and violonist Albert Chamberland gave a recital for the official inauguration on October 14, attended by Canada's governor general, Lord Minto. Charles Albert Edwin Harriss became the conservatory's first director, with Clara Lichtenstein as associate director, a position she held until 1929.
In 1908 the university's board of governors created a chair of music on Harriss's recommendation. Its occupant would be given professorial status. This led to the hiring of Harry Crane Perrin, organist of Britain's Canterbury Cathedral, first as professor of music and later as Harriss's successor. The creation of the music faculty was made possible in 1920 thanks to a generous gift by tobacco millionaire Sir William MacDonald. Perrin became the faculty's first dean. His achievements over his 21-year career at McGill included the formation of the first university symphony orchestra.
Perrin was succeeded as dean by Douglas Clarke, who remained in office from 1930 to 1955. During his time gifts from the public increased significantly. A series of concerts welcomed such internationally acclaimed musicians as Gustav Holst, Georges Enesco, Sergeï Prokofiev, Jan Paderewski, and Leopold Stokowski. Clarke also made his mark in Canadian music history as one of the founders of the Montreal Orchestra, which he conducted without pay for 11 years.
Notable personalities followed Clarke as dean. Marvin Duchow, for whom the present music library is named, occupied the post from 1955-1957 (as interim dean) and from 1957-1963, followed by Helmuth Blume (1963-1976), Paul Pedersen (1976-1986), John Rea (1986-1991), John Grew (1991-1996), Richard Lawton (1996-2001), and Don McLean (2001-).
In 1966, the McGill Conservatorium of Music became the McGill Preparatory School of Music, and in 1971 both it and the music faculty took over a wing of Royal Victoria College, which was renamed the Strathcona Music Building. Both institutions remained under the direction of the dean until 1978, when the school became the McGill Conservatory of Music with Oleg Telizyn (1978-1980) as first director. Telizyn was followed by Kenneth Woodman (1980-1987), Peter Freeman (1987-1991), Michael Isador (1991-1994), Carl Urquhart (1994-2001), Peter Freeman (2001-2002), and Dean Jobin-Bevans (2002-).
Both the conservatory and the Faculty of Music have been at the forefront of musical development in Canada since their inception, thanks to dynamic leadership, talented teachers, enthusiastic students, and sound teaching programs. Today's Faculty of Music numbers 55 full-time professors and 90 part-time teachers, with an annual student body of 700 from all parts of the world. Teachers and students present nearly 450 concerts and musical events each year, mainly in Pollack Hall, Redpath Hall, or the Clara Lichtenstein recital room in the Strathcona Building. The faculty is also a first-rate research centre for musical technology, composition theory, musicology, and musical education, in addition to being active in both the Montreal and international music scenes.
In order to stay at the forefront, McGill's music faculty is currently building a new wing that will include a recital hall, new rehearsal rooms, plus a world-class facility for research and production in connection with its interdisciplinary research centre for music, media, and technology. The Marvin Duchow music library will also be rehoused in the new wing. Progress on the new facility can be followed on the Web at www.mcgill.ca/music, where information on programs, admission, and the many events that will be celebrating 100 years of music at McGill are listed.
Here's a small sampling of coming events:
October 2, 2004 – Église St-Jean-Baptiste: The McGill choirs and symphony orchestra will perform Gustav Mahler's Symphony No 2 (the Resurrection Symphony), conducted by Alexis Hauser.
November 27, 2004 - Église St-Jean-Baptiste: McGill wind orchestras (I and II), the Harmonie de concert of l'Université de Montréal, and the combined choirs of McGill and l'Université de Montréal perform the Funeral and Triumphal Symphony by Hector Berlioz.
January 2005 – Place des Arts: The Canadian Music Centre and the Marvin Duchow Music Library of McGill will present an exhibition featuring McGill composers.
January 26, 27, 28, and 29, 2005 – Théâtre Maisonneuve, Place des Arts: Opera McGill will present Louis Riel by Harry Somers. The McGill Symphony Orchestra and soloists will be conducted by Alexis Hauser, with staging by François Racine.
March 3, 2003 – Pollack Hall: The McGill Contemporary Music Ensemble will accompany a screening of Luis Buñuel's film Un chien andalou, performing Las siete vidas de un gato by Martin Matalon.
March 4 and 5, 2005 – Pollack Hall: Guest violinist Jonathan Crow will perform with the McGill Symphony Orchestra. On the program: a newly commissioned concerto by Brian Cherney, conducted by Alexis Hauser.
April 9, 2005 – Église St-Jean-Baptiste: McGill Symphony Orchestra and Choirs performing Requiem Mass by Giuseppe Verdi, conducted by Julian Wachner. [Translated by Jane Brierley]
---
Version française...
---