Robert Savoie (1927 - 2007)
[Français ci-dessous]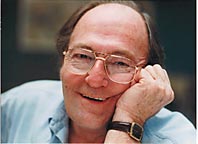 Montreal / September 16, 2007/ The opera world is saddened by the news of the passing of Canadian baritone Robert Savoie who died on Friday (September 14, 2007) in Montreal from a sudden heart attack.

Savoie, who turned 80 on April 21, was still teaching voice at the time of his death. Savoie is considered one Canada's leading baritones of all time.

Obituary Notice: Robert Savoie (April 21, 1927 - September 14, 2007)

On September 14 in Montreal, at age 80, Robert Savoie, son of the late Françis Savoie and late Émilienne Dussault, passed away.

He leaves behind his wife Michèle Gaudreau, her brothers and sisters and their spouses and children; Aline Duffy, mother of his children Élizabeth and Pierre-Paul, and their spouses Alain and Linda; his sister Rollande, his brother André-Sébastien and his wife Andrée; his nieces and nephews Jean-Marc, Johanne, Lise, Chantal, Louis-Robert, Caroline and Marjolaine; his numerous friends and fans. Robert leaves also all his current and past students, whom he cherished in his heart.

The family will receive condolences on Friday, September 21 from 5 p.m. to 10 p.m. and on Saturday, September 22 from noon to 3:30 p.m. at Collins Clarke funeral home at 5610 Sherbrooke West (corner Marcil) in Montreal (514-483-1870). To celebrate his memory, a funeral service will be held on Saturday, September 22 at 4 p.m. at the Notre-Dame-de-Grâce Church, 5333 Notre-Dame-de-Grâce.

Michele invites mourners to make a donation in Robert's memory to La Scena Musicale, a magazine for which Robert Savoie was proud to be an Ambassador in recognition of their active support of artists, musicians and singers. She thanks you with all her heart.

The address: La Scena Musicale, 5409 Waverly, Montreal, H2T 2X8. Please see www.scena.org.

---
Montréal, le 16 septembre 2007 / Le monde de l'opéra est attristé par la disparition du baryton canadien Robert Savoie qui s'est éteint vendredi (le 14 septembre 2007) à Montréal, victime d'une crise cardiaque.
Robert Savoie, qui a eu 80 ans le 21 avril dernier, enseignait toujours le chant au moment de sa mort. Il est considéré comme l'un des plus grands barytons canadiens de tous les temps.
Avis de décès : Robert Savoie (1927 - 2007)

À Montréal, le 14 septembre 2007, à l'âge de 80 ans, est décédé Robert Savoie, fils de feu Francis Savoie et feu Émilienne Dussault.

Il laisse dans le deuil sa conjointe Michèle Gaudreau, les frères et soeurs de Michèle, leurs conjoints et leurs enfants; Aline Duffy, la mère de ses enfants Élizabeth et Pierre-Paul et leurs conjoints Alain et Linda; sa soeur Rollande, son frère André-Sébastien et sa conjointe Andrée; ses neveux et nièces Jean-Marc, Johanne, Lise, Chantal, Louis-Robert, Caroline et Marjolaine; ses innombrables amis et son cher public. Robert laisse aussi dans le deuil tous ses élèves actuels et passés, si chers à son coeur.

La famille recevra les condoléances le vendredi 21 septembre de 17 h à 22 h et le samedi 22 septembre de 12 h à 15 h 30 au salon funéraire Collins Clarke, 5610, rue Sherbrooke Ouest (coin Marcil) à Montréal (514-483-1870).
Un service funèbre sera célébré à sa mémoire le samedi 22 septembre à 16 h, en l'église Notre-Dame-de-Grâce, 5333, av. Notre-Dame-de-Grâce.

Michèle vous invite à témoigner votre sympathie en faisant un don à La Scena Musicale, revue dont Robert Savoie était l'ambassadeur et qui soutient nos artistes, nos musiciens et nos chanteurs. Nos remerciements les plus sincères.
La Scena Musicale: 5409, rue Waverly, Montréal, H2T 2X8.
www.scena.org.

---
Biographie de Robert Savoie
Image en haut résolution