Jeunesses Musicales Montreal International Competition
A group photo of 41
of the 51 semifinalists
Photo: Michel Gagné

The Jeunesses Musicales du Canada launches their first Montreal International Competition. This year's focus in Voice has 51 participants from 21 countries. La Scena Musicale will be following the competition throughout the semifinals and finals and will be posting daily reports.

Read our guide to what to listen for in the Voice: The Voice that Charms

Visit for the daily review.

Reviews
> June 5 - Finals Part II
> Winners Announced
> June 4 - Finals Part I
> Finalists Announced
> June 1 - Summary
> May 31 - Summary
> May 30 PM and Evening Sessions
> May 30 AM Session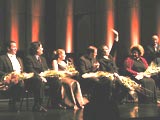 Winners:
1. Measha Brueggergosman, Canada
2. Burak Bilgili, Turkey
3. Joseph Kaiser, Canada
4. Mélanie Boisvert, Canada
5. Daesan No, South Korea
6. John Matz, USA


Links
> Official Competition Site
> Radio-Canada Live Webcast of the competition

The Gala of the Winners of the Jeunesses Musicales Montreal International Competition goes tonight (June 7 at 7:30 p.m.) at Salle Wilfrid-Pelletier, Places des Arts in Montreal. Tickets are $16, 22, 33 and 44. (514) 842 9951.

For listeners outside Montreal, The entire concert will be telecast live on Art TV, as well as video webcast live on the Radio-Canada website, and broadcast live on La chaîne culturelle of Radio-Canada.
---

Ticket Contest: Win one of three pairs of tickets to the winners' Gala on June 7th at Places des Arts with Stefan Lano conducting the Montreal Symphony Orchestra. Deadline: June 5, 2002

The following are the winners our ticket contest. Thanks for entering the contest.

- Dominique Béland
- Claudette Corrigan
- Jeanne-d'Arc Messier