The Victoria Symphony makes a big splash with concert
by John Defayette / August 18, 2003

---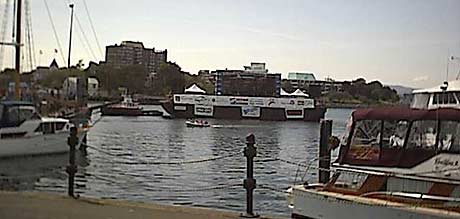 Orchestra barge being towed into the inner harbour Victoria BC
The Victoria Symphony opened their fall season on August 3rd 2003 with a splash! The 14th annual free Concert was held on a barge moored in the inner harbour; situated near the BC legislative buildings and the Fairmont Empress hotel.
The audience began to arrive early in the morning to stake out their vantage spots. Many brought picnic lunches as it was a bright sunny day. People of all ages attended, numbering in total about 30,000, spilling out around the inner harbour streets, including the lawn of the BC legislature. Many arrived by canoes, kayaks and other small craft and positioned their vessels in front of the barge.

The stage is set atop the orchestra barge
The activity increased by mid afternoon with the arrival of the HMCS Quadra Sea Cadets followed by the orchestra. The barge was towed out into the harbour, and the tuning of instruments began.
This was the first grand reception that Tania Miller received since her official appointment as musical director and conductor of the Victoria Symphony. Miller is one of the first women to be appointed as music director to a major orchestra in Canada! Her enthusiasm thrilled the crowd, though the applause did frighten the sea gulls.
The programme included many favorites such as R.Strauss's Also Spracht Zarathustra, which appealed to enthusiasts of 2001: A Space Odyssey. This was followed by dance pieces of Rimsky -Korsakov: (Capriccio Espagnol), A. Dvorak (Slavonic Dance No. 1 Op. 46) and P.Tchaikovsky (Waltz from Sleeping Beauty).
Justin Chiu, a 10-year-old piano soloist, then performed Mozart's Piano Concerto No. 9 with the orchestra. It was a standing ovation. Someone said that the birds were chirping to the music.
After the intermission the orchestra displayed its versatlity with a jazz rendition of J. Tyzik (arr) Symphonic Swing, followed by Kander's Chicago. Miller then donned a wizard hat to the delight of the younger audience members for Williams's Harry Potter Symphonic Suite. This was followed by "Star Wars".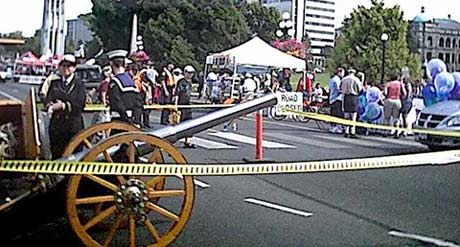 Cadets & cannon preparing for 1812 overture finale
The piece de resistance was Tchaikovsky's 1812 Overture. In its conlusion, cannons fired from the HMCS, Netherlands Carillion bells chimed and fireworks filled the sky, ending what was a spectacular show!
---