Limited Run Return Engagement- three shows only!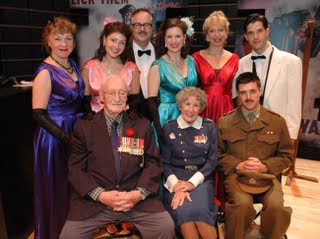 Theatre Panache
Presents
By David Langlois
Directed by Heather Markgraf Lowe
Musical Direction by Marian Siminski
Encore performances- November 21, 22, 2009
To see an inspired clip from Till We Meet Again please go to:
Till We Meet Again

"Till We Meet Again is a must-see play. 'Ķ Simply put, Till We Meet Again is a classic in the making."

-Translated excerpt from Andrˆ© Lapointe, RegardEnCoulisse.com


MONTREAL, November 2009 'Äì For those who missed Till We Meet Again in October, the show is back for three performances only, having played to enthusiastic and standing-ovation crowds through Ontario. This wartime musical production offers a true account of how a live CBC-based radio program connected a nation during the uncertainty and emotion of World War II. The themes are as relevant today as they were then in this historical Canadian journey seen through reports through the eyes of Canadian soldiers and the people back home.

Based on playwright David Langlois' months of careful research including dozens of interviews with veterans, Till We Meet Again authentically recreates life in Canada in the 1940's. Audiences enjoy lively songs, dance, and ad jingles, contrasted with live news of the day, reports from the front and actual letters to and from the soldiers. This was a time of people trying to make sense of a world in turmoil. Directed by Heather Markgraf Lowe and presented in the beautiful Oscar Peterson Concert Hall on Concordia University's Loyola Campus, the outstanding cast includes Jane Hackett, Dan Jeannotte, Amanda LeBlanc, Pierre Lenoir, Stephanie McNamara, Michael Daniel Murphy and Marian Siminski. The talented creative team includes lighting designer Eric Mongerson, set designer Chris Brown, choreographer Lorna Wayne and costume designer Karen Pearce. The stage manager is Daveen Garland.

Many people who have seen the show come back again and again, bringing friends and family. "They're all enthralled," Richard Fitzgerald, the show's Executive Producer, describes of watching productions of the show and audience reaction. "People start to see the storylines (as parallels). The past becomes real again ... it brings history alive. It's a show for all ages." Initially brought to the stage in 2002, Till We Meet Again was first workshopped on a much smaller scale, Fitzgerald explains, eventually building up rich back stories and other aspects of the production. Wanting to bring the show to bigger audiences in bigger theatres, this version will complete a 36-performance run across Ontario and Quebec throughout the fall, he adds. It is the story of "love and human decency" against the backdrop of World War II. -Rick Fitzgerald in the East Ottawa Star

"Till We Meet Again is a worthy, meaningful, pleasantly entertaining event."

-Pat Donnelly, Montreal Gazette


Till We Meet Again includes performances of nearly 30 of the most popular hits of the 1940's filled with romance, comedy, army life and hope. Each one beautifully evokes the sounds and emotions of the World War II era. Audiences will enjoy solos, duets, trios and choreographed medleys to classic songs like Boogie Woogie Bugle Boy and Lilli Marlene, among others. This show leaves audience members feeling proud and inspired.

Theatre Panache's Artistic Director Heather Markgraf Lowe (founder of Hudson Village Theatre) was thrilled to restage Till We Meet Again for its tour that began and closes here in Montreal. The performances in Ottawa mark a memorable return to the Canadian War Museum when the all-Canadian cast proudly performs there following Remembrance Day.

For background info, bios and full song list, please visit www.tillwemeetagain.ca


Till We Meet Again 'Äì 3 shows only
Theatre Panache
At Oscar Peterson Concert Hall on Concordia University's Loyola Campus
7141 Rue Sherbrooke Ouest
www.tillwemeetagain.ca
Showtimes
Matinees: Nov. 21, 22 at 2:00 pm
Evening: Nov. 21 at 8:00 pm

Tickets available at the box office and from Admission - 514 790-1245 www.admission.com
(Service charges applicable- save money by purchasing tickets directly at the box office.

I think there is sweetness in Heather Markgraf Lowe, which she brings to her direction of this play. 'Ķ the talented Jane Hackett (who also rocked in Slow Dance with a Hot Pick Up this year). Amanda LeBlanc was delightful as Maxine Martine. Stephanie McNamara was a fabulous Alice Thompson and Marian Saminski did a terrific job as musical director, and played a convincing Dixie Coleman. Michael Daniel Murphy was good as Ron Houseman but had to play next to the inimitable Pierre Lenoir as the lead: a consummate professional. He knows how to deliver song or a line and how to take a joke to the brink of milking it then pulling back with panache.

- Anna Fuerstenberg, RoverArts.com

Labels: Theatre Panache