July 2009 SCENA.org Update
[Version franˆßaise]

Hello,
La Scena Musicale's July-August 2009 Issue has been distributed since July 2nd and will be available for sale on newsstands on July 17 along with this month's Discovery CD. Violinist Jonathan Crow is our cover and Discovery CD artist. You can also find the issue online in PDF and HTML format at http://www.scena.org. See editorial below.
View HTML back issues of our magazines from the last 12 years of innovative reporting. Find them at www.scena.org/lsm/back_issues-en.asp
Our blog (http://blog.scena.org) is active with news, reviews, commentary and birthdays and our jazz blog (http://jazzblog.scena.org) is hopping with Fall Previews. Come back often for updates!
Our newswire service (http://newswire.scena.org) continues to be your guide to the latest music and arts news. We'Äôve published over 1300 press releases since December 2007.
For more info on advertising, visit http://ads.scena.org
We are pleased to introduce the new La SCENA Arts Lover Card, which will allow arts and music fans to experience arts and culture with discounts and special promotions including access to the Naxos Music Library (a $189 value) while receiving copies of our magazines in the mail. Vsithttp://LaSCENACard.scena.org for more details. Our goal is to develop a network and community of arts lovers across the country. The cost of the card is $40 for Canadians, which includes 10 issues of La Scena Musicale/La SCENA mailed to your home. A $35 PDF option is available for International subscribers.
Opera Weekend in Toronto: Join La Scena Musicale in an opera weekend in Toronto onOctober 17 and 18, 2009 to see two operas over two days presented by the Canadian Opera Company: Puccini's Madama Butterfly and Stravinsky's The Nightingale and Other Short Fables(directed by Robert Lepage). Don't miss this unforgettable weekend! More info here.
Opera Weekend in Montreal: Join La Scena Musicale in Montreal on October 3, 2009 as the Montreal Opera opens their 30th season with an Italian double-bill: Leoncavallo's tragic I Pagliacciand Puccini's comedy Gianni Schicchi. Contact 1-877-948-2520.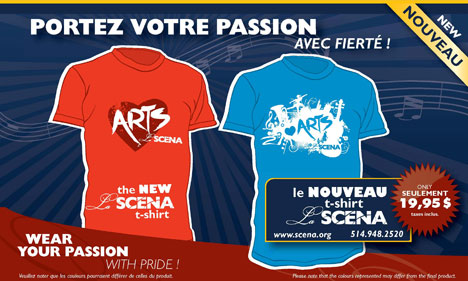 LSM Merchandising:
NEW

: The "I LOVE ARTS" T-Shirt: WHAT BETTER WAY TO WEAR YOUR PASSION FOR THE ARTS THIS SUMMER. In two great colours: $19.95 (taxes included, postage extra). See Order form. Available: July 17, 2009.
The "I LOVE ARTS" button. Show your Pride. La SCENA is proud to introduce the "I LOVE ARTS" button. Three designs are available in full colour. Order buttons by sending $2 per button. This is also available in bulk for fundraising campaigns.
Order here.
Puccini 150 CD: In partnership with XXI Records and distributed by Universal, LSM has produced a 2-CD highlights set to celebrate the composer's 150th birthday. Makes a Great GIFT. See review and order form.

------------


EDITORIAL


As we conclude our publishing year, we reflect with pride on a fruitful season full of memorable moments. We had the opportunity to profile passionate, talented artists such as Marc-Andrˆ© Hamelin, Marc Boucher, Marie-Nicole Lemieux, Maria Schneider, and this month, Jonathan Crow. We delved into the wealth of jazz, world and classical festivals to create comprehensive festival guides. We were thrilled to meet many of you at our Choral Extravanganza, a beautiful and inspiring gala celebration. Subscribers have benefited from our recent addition of a free Discovery CD with each issue, as well as access to the extensive and invaluable online NAXOS music library.

Looking towards the fall, we are pleased to announce the first-ever annual La SCENA Arts and Music Directory, which will hit stands August 12, 2009. The directory will be the first of its kind in Quebec and promises to be a premier source for artists, students, and arts-lovers. Readers will have access to comprehensive listings of schools, teachers, competitions, websites, performance spaces, amateur and professional choirs and ensembles, supply stores, high-end audio, agents and more in the fields of music, dance, theatre, film, and visual arts. This bilingual directory is timed for back-to-school publication, and will be the essential guide for arts and music learning and participation. (Info)

The Fall Edition of La SCENA (special Fall Arts Preview) will appear on September 3, 2009, featuring Canadian auteur Robert Lepage, the internationally-acclaimed playwright, filmmaker, and multimedia artist. Included in the Fall issue will be the September edition of La Scena Musicale, featuring tenor Marc Hervieux. This issue is shaping up to be a special issue on Opera.

With the current state of arts funding and the recent downturn of the economy, it is not always easy to find the funds necessary to maintain the quality of publication that our readers have come to expect. A recent drop in advertising revenues has been particularly difficult as we depend on advertising for 80% of our budget. As well, LSM received a blow with the recent amendment of the Canada Council for the Arts abolishing the possibility of funding support for controlled-circulation print magazines. The fact that we have flourished for 13 years without any government support is a testament to the power of La Scena Musicale, and the subsequent financial support of readers, philanthropists, and advertisers. In light of these recent financial concerns, we need your help more than ever. Only through your involvement and generosity can we continue to promote and defend arts and culture with passion and dedication. Here are two key ways that you can help LSM to stay afloat (Download formula):
Subscriptions: For only $40/yr, receive our magazine at your doorstep. You will receive exclusive offers only available to subscribers, such as the free monthly Discovery CD and access to the NAXOS music library. All subscribers will be eligible for the Subscription Drive Contest, which offers $20,000 in prizes. If you already have a subscription, consider giving a friend or family member the gift of LSM.
Donations: Your contribution will help sustain and improve LSM'Äôs work, allowing us to attain a higher quality of writing, editing and translation. For example, $300 can sponsor the text of a feature article while $175 contributes to its effective translation.
For the past thirteen years, it has been our greatest pleasure to inform and entertain you and we hope to continue providing you with editorial excellence and innovation for many years to come. Thank you for all of your support!



Wah Keung Chan
Founding Publisher and Editor
La Scena Musicale
La SCENA

Labels: LSM_News